Independent and affordable therapy

'It takes courage to access support and ask for help and I have been inspired by dozens and dozens of people who want to change things and live happier lives.'
Why did I become a counsellor?
I used to do admin in a sexual health project, and wanted to learn how to maintain professional boundaries with vulnerable people accessing the service.  I was the first point of contact and wanted to help appropriately.  So I did an 'Introduction to counselling skills' course and then the 'Certificate in counselling'.   It really helped and I enjoyed learning the skills.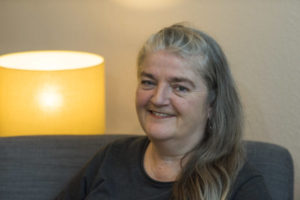 I learnt how to support others in a non-judgemental way.  How to really listen and also how to check in with and learn about myself.   The training was Person Centred.  I didn't really know what that meant when I started – it just made sense to me.   I went on to do a 'Diploma in Person Centred Counselling' at Salford College and an 'Advanced Certificate in Therapeutic Group Work'.
I have been a qualified Person Centred counsellor since 1998.  For 14 years I was the manager of The Market Place – a young people's mental health service in Leeds.   I also developed and ran training packages on different mental health issues eg self harm, working with difference.
Do I see a therapist?
I have seen a therapist at different times in my life.  When I first left home as a teenager, a lot of issues came to the surface, so I had therapy which helped me make sense of things and cope better.  As I have grown older I have accessed therapy at various times, as different issues have come up.   There is always something new to learn about myself.